It's hard to believe that Here Comes Honey Boo Boo has made stars out of Mama June and her clan.

It's even harder to believe the things that Mama June does.

Now, TMZ is reporting that TLC has cancelled the show because Mama June is dating a registered sex offender.

The guy was put away ten years ago for child molestation.

And here's the worst part - Mama June was dating the guy when it happened, and she knew his victim too.


---
Zach Galifianakis could be the most underrated fake talk-show host since Jiminy Glick.

He's had some pretty interesting guests on his show, Between Two Ferns, not the least of whom was Barack Obama.

His most recent guest – who looks more like a hostage in this one – is Brad Pitt, there ostensibly to promote his new movie, Fury. Or Furry, if you're Zach.

Check it out.

Pretty funny stuff.


---
A trailer for the 2015 film, Avengers: Age of Ultron "leaked" a little early this week.

It was supposed to hit at the beginning of next week - Tuesday, to be precise, during an episode of Marvel's Agents of S.H.I.E.L.D., but instead, somehow found its way to the Internet about six days early.

Oops...


The folks at Marvel Entertainment took it all in stride, and blamed it all on Hydra.

Hydra's the terrorist organization for which many of the bad guys in the Marvelverse work - so why not?

---
Tom Bergeron hosted the Miss America Pageant once.

Just once.

He revealed in a recent interview with HuffPostLive that he wasn't asked back because of an "incident."

The "incident" - which wasn't his fault, he says - involved getting a shoulder massage from one of the contestants.

He told her that was a good massage - and she promised a "body massage" if she won.

No big deal - until he told the story on a talk show afterwards.

And just like that, his phone wasn't ringing.

Turns out that HuffPostLive wasn't the first to get the story. Tom told it over a year ago for the Archive of American Television.


---
Air New Zealand gets an A+ for ingenuity with its new air safety video.

It uses characters and actual actors from the Lord of the Rings movies - all filmed in New Zealand - to go through the in-flight safety speech normally done live by flight attendants.

Elijah Wood - Frodo Baggins from all three films - appears in the video and sums it up.

Just before Peter Jackson, the director of the films, wraps it up.

Check it out... It's even better if you're an LOTR fan - or a Hobbit.


---
Primanti Brothers is a legendary sandwich shop in Pittsburgh.

The business started as a vending cart in the 1930s. The founder stuffed all his best ingredients into one sandwich so blue-collar workers could carry everything in one hand.

That was then. Now, Primanti Brothers has announced they'll be delivering their sandwiches nationwide.

Thanks to a partnership with a new gourmet delivery startup, people can go on-line and order a Primanti's party pack.

You get a loaf of fresh Italian bread, your choice of pastrami or capicola, provolone, hand-cut French fries, coleslaw, hot sauce, two tomatoes and a Primanti's T-shirt.

The T-shirt is not edible. At least, I don't think it is.

Price tag: $109.

No word on the delivery time, but if you order it this morning, you will not have it for lunch today.

Unless you live in Pittsburgh, and then you're more likely to do pick-up.


---
---
---
"Diss me you'll never hear a reply for it." -Drake

Drake goes IN on Tyga- in the Drake way. As you know, the boy Tyga recently proclaimed that he doesn't like "Drake as a person." I would have preferred he say, "f**k Young Money as a staff, record label and as a motherf**king crew," but that's just me. Anyway, he homed in on Drake and Nicki, saying that he really didn't care for them. Now, as far as I know, Nicki didn't say much. However, Drake said a little something in his own little Drake way. He went and liked several pictures of Blacc Chyna, Tyga's baby moms. He knows people are watching so that's a major diss in the world of Drake. LOL! Earlier this year, he rapped "call up King of Diamonds and tell Chyna it'd be worth the flight." So, he's been messing with Lil' Tyga all year! I think Drake is that type of dude on some LL s**t. Anyway, we'll see.

Tyga be like: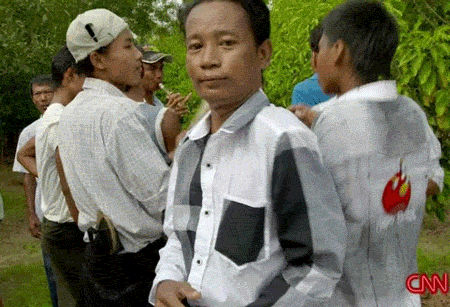 ---
T-Boz and Chilli cannot escape the wrath of their ex-manager.
TMZ reports that TLC's ex-manager Perri "Pebbles" Reid has filed another $40 million lawsuit against them and Viacom for the way she was portrayed in the VH1 flick CrazySexyCool: The TLC Story. In court documents, Reid claims that the film, which aired a year ago, ruined her reputation and depicted her as a liar and a cheat when all she really did was out her blood, sweat and tears into making them superstars.
The biopic also made it seem like Reid wanted Chilli and T-Boz to disregard major health concerns for the sake of the group's touring schedule, which she denies. There were scenes that showed Reid pressuring Chilli to get an abortion and being more concerned with the group's itinerary than T-Boz's sickle cell anemia.
---